Aqua Engineers Named Employee Owned Company of the Year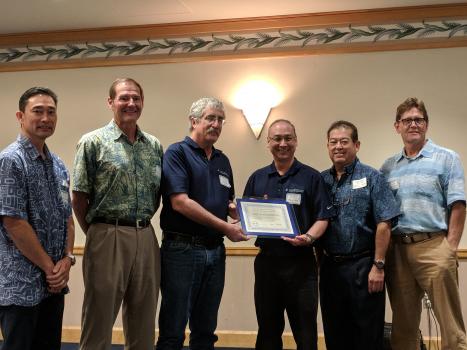 Aqua Engineers, Inc. (Aqua) of Kalaheo, Kauai, HI, has been named the ESOP Company of the Year by the Hawaii Chapter of The ESOP Association.  The Hawaii Chapter will be submitting Aqua as a candidate for the National ESOP Company of the Year which will be announced in Washington, DC on May 23, 2018 at The ESOP Association National Conference.   Aqua owns and operates water and sewer utilities across the state of Hawaii.
"On behalf of the leadership of the Hawaii Chapter of The ESOP Association, we are extremely proud, honored, and excited to recognize Aqua Engineers as the 2018 ESOP Company of the Year. This recognition is not a one-year success story, but rather a culmination of continued success over many years of embracing and enhancing the attributes that reflect Employee Stock Ownership Plan (ESOP's) companies in Hawaii. This includes employee participation & communication in company operations, long-term wealth creation for employees, and recognizing the individual dignity and worth of all employee-owners" -- Norman Kawakami, President of the Hawaii Chapter of the ESOP Association. 
Retirement Benefits
Since 2006, Aqua Engineers has been owned by its employees through an Employee Stock Ownership Plan, or ESOP.  An ESOP holds stock in the company on behalf of employees and uses it to fund a retirement plan. This retirement benefit typically is offered in addition to a more traditional 401(k).  However, unlike a 401k, ESOPs typically require no out-of-pocket contribution from employees.  Since Aqua formed its ESOP in 2006, the stock held for employee-owners has seen an annual growth rate of 23 percent.
"When the ESOP purchased Aqua Engineers in 2006 we expected to pay off the acquisition loan over 12 years.  Our employee-owners worked hard and we were able to retire the acquisition debt in 5 years.  That led to a decision in 2012 to share our rewards between employees (50%) and owners (50%) with a combination of long term (share price growth) and short term (annual bonuses) benefits. " –Ken Davis, President Aqua Engineers, Inc.
Profit Sharing
At a time when many note problems caused by income disparity, Aqua is going out of its way to share the company's wealth with its employees. The company has offered extremely competitive base pay and employee benefits.
Shortly after the ESOP was formed, Aqua started annual profit-sharing bonuses which employee-owners can choose to receive in cash, in the form of additional retirement contributions, in the form of extra paid time off, in the form of free healthcare, or a combination of these benefits.
"Having an opportunity to build a substantial retirement account based on performance through ownership in the company with negligible cost is a win-win. The founding owners received tax relief on the sale of the company and the employees who contributed to the success of the company received a Mahalo for their efforts.  The pride of being an "Employee-Owner" is the best part. We have a higher level of transparency than many non-ESOP organizations and we have more control of our destiny" – Michelle Emura, Marketing Specialist (16 years)
Workplace Culture
Aqua tries hard to ensure that communication flows all directions within the company.
The entire company receives a quarterly newsletter written by employee-owners. Articles discuss upcoming activities for employees and offer educational insights learned through ESOP training and conferences.
Employee-owners also receive a weekly e-mail from the company president. The e-mail provides information about the business—including its financial performance, upcoming events and organizational changes. The president's message also highlights employee-owner successes, such as promotions and new certifications.
Aqua was named one of the Best Places to Work in Hawaii by Hawaii Business in 2016.   And in 2017, Aqua was named one of the 50 Fastest Growing Companies in Hawaii by Pacific Business News. Aqua continues to land in the top 250 highest grossing companies in Hawaii and top ten as a Hawaii Defense Contractor.
"Employee stock ownerships are beneficial to both employees' financial stability and the success of Hawaii businesses, as demonstrated by Aqua Engineers' growth and reputation as one of Hawaii's best places to work. Congratulations to Aqua Engineers for being recognized as the Hawaii ESOP Company of the Year."-Senator Mazie K. Hirono
For Additional Information, please contact:
Michelle Emura
Marketing Specialist
Aqua Engineers, Inc.
(808) 240-2202
Ken Davis
President & CEO
Aqua Engineers, Inc.
(808) 332-7381
Norman Kawakami
President
Hawaii Chapter of The ESOP Association
President
CHART Rehabilitation of Hawaii
(808) 523-9043
Patrick Mirza
Communications Director
The ESOP Association
(202) 293-2971